Welcome to our Executive MBA, an 18-month blended programme to move your career forward.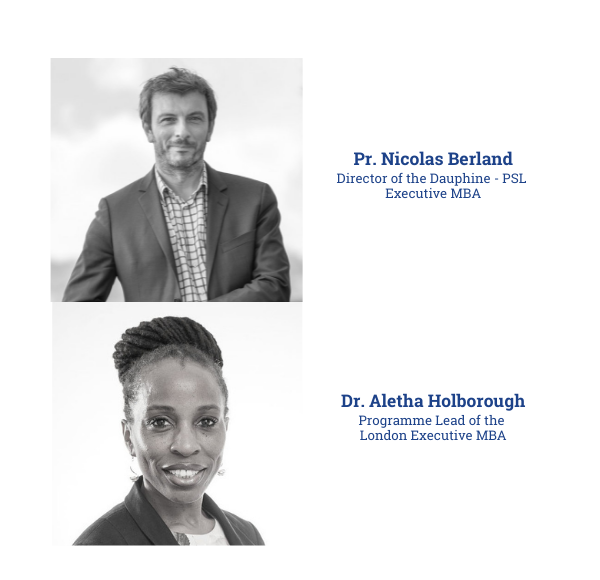 Our Executive MBA is an 18-month, part-time programme, designed for executives looking to challenge their business mindset, leadership and management skills. This new track of the historical Dauphine - PSL Executive MBA (EMBA) is entirely taught in English and mostly online. It includes four weeks of on-site teaching; three in London and one in Paris with students from the original programme around a business game, for even greater cross-fertilization of experience.
While benefiting from the same curriculum as the Parisian programme that has existed for over 20 years, the London Executive MBA differs by its flexibility and its resolutely international outlook. The course will allow managers seeking flexibility to maintain their professional responsibilities with a recognized EMBA degree while limiting their carbon footprint by reducing travel.
Our EMBA focuses on organisation, cohesion, caring and responsible management. The success of the Executive MBA lies in the ability of its executive graduates to make key decisions for their business. It presents excellent opportunities for participants to network and bond with other high-achieving professionals from diverse backgrounds.


The Objectives
Conceive a strategy and translate it into an action plan
Manage/deploy the financial levers focused on value creation
Build a successful financial strategy
Support business growth and manage projects
Develop business and networking opportunities
Manage a team
Establish a company diagnosis, develop a business plan
The London Executive MBA is aimed at high-achieving executives from diverse geographical, educational, and professional backgrounds who are:
Currently employed
With at least a Bachelor's degree
And 5 years of professional executive experience
Fluent in English
---
Duration

490 hours over 18 months
Upcoming start date

22 April 2022
Pace

Weekly online study/coaching (evenings and weekends) and 4 weeks of on-site teaching (3 in London, 1 in Paris)
Location(s)

Online e-learning (70%), London (25%), Paris (5%)
Degree or certificate issued

The London Executive MBA leads to the award of both the MBA and a Masters in Management of Université Paris Dauphine – PSL, a selective world-class higher education institution recognised as a 'Grand Etablissement' in France
Want to know more?
Join our next information session