Be one step ahead with our Alumni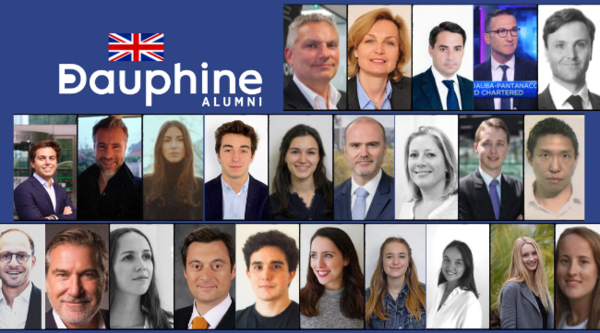 With an active community of almost 2,000 of Dauphine - PSL Alumni based in London and the UK, we are able to host a variety of networking events and activities specifically designed for our students.
We are thankful for the many Alumni Breakfasts & Coffees, mock interviews and talks that were offered to our Bachelor's in Economics and Management students thus far. The huge variety of careers and industries represented is fascinating, giving our students the most comprehensive picture of career paths and further studies to explore.
This semester alone, students had the opportunity to learn the ropes and behind the scenes of many roles and titles, from consulting to project manager roles, analyst, entrepreneur, director, sales manager, and more.
A special thank you to: Regis Cambon (Lombard Odier Investments), Anne Boisier-Fouché (Octus Global), Olivier Roy (DHL Express), Oudom Dy (Llyods Banking Group), Victor Cossec (KPMG), Vincent Baroin (Fox Advisory), Julien Dauchez (Natixis), Maud Thomas (Sorores London), Berangere Salembien Hassenforder (ALTYX Financial), Bertrand Chevalier (Ardian), Tamas Haiman (EdTech), Etienne de Merlis (Signia Wealth Limited), Philippe Dauba Pantanacce (Standard Chartered Bank), Arthur Lauvaux (White & Case), Jerome Finkel (Bridgepoint), and Antoine Champenier (Lazard Asset).
What a pleasure as well to see our more recent Dauphine's graduates contributing and passing on their experience to current students during our recent last Career Forum with Louise le Chanoine du Manoir de Juaye, Eugénie Courcelle Labrousse, Romane Combemorel, Agathe Bauer, Baptiste Perrier, Rebecca Mondy, Clara Dansette and Claire Chin.
Thank you to our Student Life & Education Coaches team for putting together such a rich calendar, Clotilde de Cacqueray, Kevin Coyne and Sandor Balogh.
The Dauphine Alumni London Chapter, is the organisation who gather and animate the community in London and the UK. Over 20 local and international Chapters of Dauphine – PSL Alumni are active all around the world. Graduates are all members of a lifelong community of over 100,000 Alumni globally!
---