Ecological Initiatives of 2022
From its proper ecological society to the implementation this year of an Ecology Officer, key member of the Student Union, discover the various initiatives taken by the campus.
What are the different roles available for students to promote sustainability on the campus?
Ecology Officer – DLSU (Student Union)
The Ecology Officer is responsible for the promotion of sustainability within the campus. She/he will tend to implement various green initiatives for the campus to be more-ecofriendly by working with societies and students. The Ecology Officer benefits from a proper budget defined during the Welfare and Wellbeing Committee and the Entertainment, Societies and Clubs Committee.
This role has been created this year alongside the Dauphine London Student Union (DLSU).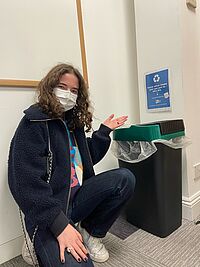 Zoé Catonnet, 2021-22 Ecology Officer

Diverse initiatives have been put in place during this 2021-22 academic year:
Paper bins within every classroom to encourage recycling and encourage students to be accustomed to recycling their rubbish
Creation of stickers to encourage students to switch off lights when leaving the room. Stickers have been installed near every interrupter
Flyers have been displayed within the campus to raise awareness about the current ecological challenges and events for students to be informed
Furthermore, by the end of the year, an ecological booklet providing ecological tips and advice should be available for students to access and read on campus. A team of students along with the Ecology Officer are currently working on this project.
The Dau'Green Society has been created in 2019 by former students. Today, it counts 20 members and is responsible for initiatives at the campus scale. Its role is to encourage students to get involved in the fight against global warming and organise events to act concretely. Some projects conducted by Dau'Green are:
Creation of a roof garden to cultivate plants and vegetables on our campus rooftop
Clean walk in London to collect trash and encourage recycling
Weekly ecological Instagram post
Eco-friendly recipes

On-campus roof garden project

Are students encouraged to reflect upon sustainability?
Students, without being part of Dau'Green or involved in projects led by the Ecology Officer are also encouraged to consider sustainability as it is one of the major contemporary issues. Indeed, the Ecological Challenges for the 21st Century course allows students to reflect upon an ecological project. Various projects aim to raise to raise awareness about the major sustainable consideration; fast fashion, eco-friendly products!
Written by Zoé Catonnet, 2021-22 Ecology Officer, Year 2 student
---