Learn about art wealth management from top-notch experts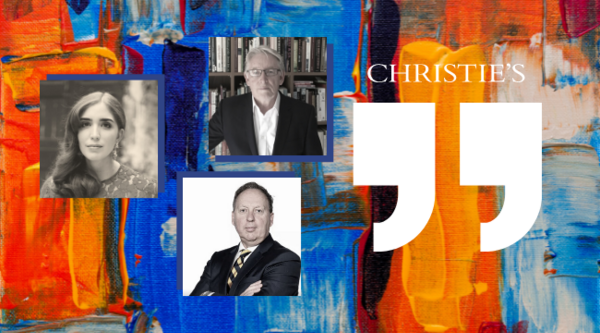 The short course, offered from 4 to 8 July 2022, is the result of a unique collaboration between two world-class institutions: our Université Paris Dauphine - PSL and the world's leading auction house, Christie's.
We spoke to Glen Hardwick-Bruce, Director of Programmes at Christie's Education, as well as two experts who will be teaching during the Masterclass; Dr. Tom Flynn, Art Historian, and Leslie Ramos, Art Consultant and Founder of ArtEater.
Who is the Masterclass in Art Wealth Management for?
Glen: It's for anyone who wants to change careers, update or expand their current knowledge. It provides an opportunity to learn more about the international art scene, from the personalities you need to know about and their importance in the art market landscape to the legal structures and implications of buying, selling and collecting art. By the end of the week, participants are able to provide more informed advice to their clients.
Why would you recommend any art professionals/aficionados to join the one-week London programme?
Glen: Participants have many opportunities to make new connections and grow their professional network. They will have the chance to visit an artist's studio, tour corporate collections and rub shoulders with leading experts in the art world who can potentially offer advice to further careers and open doors that participants may not be aware of.
Leslie: It's a fantastic opportunity to learn from the best, representing all trades and aspects of the art sector. I am impressed by the wealth of knowledge and learning that has been packed into a short time and, even as a speaker, I wish I could stay for the whole week and attend all my colleagues' talks!
What can participants learn and expect to achieve through your lectures?
Tom: My teaching provides a thorough grounding in the art market ecosystem and how its various institutions and commercial components interact with each other. I provide an overview of the key historical events and market practices that have helped create the contemporary market we know today. Through a series of tailored presentations, I offer guidance on valuation and pricing mechanisms in the art market and on emergent trends in art investment, technological innovations such as Non-Fungible Tokens, the Blockchain, etc., and the impact of social media.
Leslie: My lectures will be focused on two different but very intertwined aspects of the art world, the international art market and arts funding and patronage of the arts. As such, I will provide an overview of past and recent developments that have affected the art market at a global level, discuss the institutional expansion of the arts beyond the US and Europe with a focus on the Middle East and China and examine the relationship between museums and public institutions and how they are funded, and the market.
Why does London remain one of the main epicenters of the global art market?
Glen: London is considered to be one of the major art hubs of the world. With major museum and gallery collections along with leading auction houses and commercial art spaces together with a thriving artistic community on your doorstep, London offers everything required to enhance knowledge and experiences connected with the art world. Very few other places can offer that.
Tom: We know from countless historical examples that wherever wealth is generated, art markets flourish. This was true in Renaissance Florence, in Antwerp in the 16th century, in Amsterdam in the 17th century, Paris and London in the 19th century, New York in the Post-War era, and in the Asian economies today. London's liberal banking culture and judicial system have proved an attractive lure to the world's wealthy, which inevitably in turn stimulates the markets for luxury goods, haute couture, and, of course fine art. Increasingly seen as an asset class, art is now used as an important component in portfolio diversification in wealth management, family offices, and so on.
Leslie: Despite Brexit, the pandemic and the market's expansion beyond Europe and the US, London continues to remain a key place for art trade and for defining taste and artistic trends. The solid presence of the auction houses, as well as one of the strongest networks of commercial galleries worldwide make London an unmissable spot for any art collector and arts professional. That, in addition to the presence of some of the most important museums for modern and contemporary art, art schools, artist studios and residencies as well as a vast pool of collectors nurturing institutions and the market globally, make London an unmissable spot and a key city for anyone interested in the art market and its ancillary services.
How is the international art market resisting the recent crisis and what change are you predicting?
Tom: The global art market has experienced mixed fortunes over the last two years of the Covid pandemic. While the auction houses succeeded in transitioning into the 'digital turn', successfully adapting their business strategies into online 'hybrid' formats to compensate for the suspension of 'live' in-person sales, other businesses have struggled to adapt. The major art fairs and the big international dealerships will have taken a hit, so will no doubt be striving to return to pre-pandemic approaches, while smaller businesses may struggle to stay alive. The online market is only likely to grow. As for the future of NFTs, cryptocurrencies and the Blockchain, there is still a lot of white noise, big promises, and numerous teething troubles, so I'm keeping my powder dry to see how things develop. As for the war in Ukraine, it is still too early to gauge the possible impact of the recent sanctions on the broader art market.
Leslie: Seemingly, according to the latest Art Market Report 2022 published by Arts Economics, the art market has survived the recent crisis quite well. So far at least. This has been mostly due to HNWI wealth being preserved, as well as a new group of HNWIs, notably those with crypto fortunes, deciding to be art collectors and some businesses in the art world catering to that desire. The pandemic also caused a shift to selling online, creating a 'new normal' to buying and viewing art online. However, by and large, I think the art world and art market will keep going as it did before. Its drivers are too fundamental for a pandemic or crypto-revolution to overturn.
Learn more about the Masterclass
Who is Glen Hardwick-Bruce?
Glen came to Christie's Education following many years spent in South Korea, Japan and Italy. With thirty years of experience in Education, Publishing and Finance, Glen now designs and implements Christie's Education continuing education and bespoke courses in the UK, Europe and Middle East.
Tom is a UK-based art historian with an interest in the professional practices of the global art market, sculpture history and cultural heritage. He is a former auctioneer, art market journalist, and writer. He has held board positions in art price data and limited edition print companies. He is also a visiting lecturer at a number of UK universities and has been sharing his expertise with Christie's Education for the past ten years.
For over a decade, Leslie Ramos has worked with some of the world's most influential artists, philanthropists, collectors, institutions and businesses across Europe, Asia, North and South America. Prior to founding ArtEater, she worked at the Royal Academy of Arts, Christie's auction house, The Art Newspaper, the Teatro La Fenice, and the Peggy Guggenheim Collection. Leslie is also the international strategy and development advisor for the Maeght Foundation, and sits on the strategic advisory board at Delfina Foundation, Artangel's Development Committee, and Peckham Platform's Advisory Committee.
Published on 7 April 2022
---