Celebrating the Start of the Year and the launch of our Executive MBA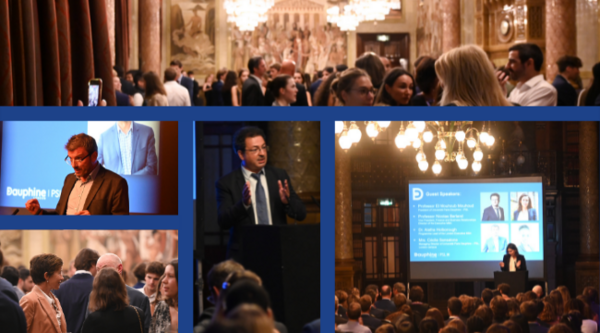 What a wonderful event we enjoyed together last Thursday 16 September at The Royal Horseguards Hotel. The stunningly grand hotel, located near Westminster and Embankment tube stations, was the venue for our annual Start of the Year Celebration and the Announcement of our London Executive MBA, starting in April 2022, to our ever-growing community in the United Kingdom.
We were delighted to welcome everyone to this prestigious evening, after not being able to hold the event in 2020. An assembly of esteemed guests honoured us with their presence, including Professor El Mouhoub Mouhoud, President of Université Paris Dauphine – PSL, friends and corporate partners, the London Alumni Chapter, our dear students and faculty members – all present to celebrate the start of another fulfilling and meaningful academic year!
The evening was a chance to tell our cohort of guests about our goals and visions and highlight the expansion of our Executive Education, namely our unique blended Executive MBA programme. Following the welcoming speech delivered by Mrs Cécile Sansalone, Managing Director of our campus, and the introductions from both President E.M. Mouhoud and Pr. Nicolas Berland, Vice President, Finance and Business Relationships, Dr. Aletha Holborough, Programme Lead of the London Executive MBA, gave a broader overview of the programme and its distinctive features.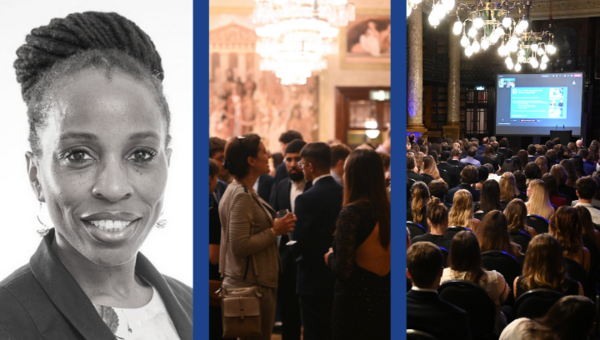 At a glance, "The London EMBA provides a flexible way to learn, with a international outlook, thanks to its blended learning approach: the programme is delivered mainly online (70%) and on-site (30%), in London and in Paris. With its 18-month part-time format, our London EMBA is fully suited to busy executives' diaries." 
Our EMBA is aimed at high-achieving executives from diverse geographical, educational, and professional backgrounds, looking to challenge their business mindset, leadership, and management skills. Aletha particularly highlighted the caring and responsible approach to management taught throughout the programme; "Participants will enhance their knowledge and skills to empower them as a leader. They will gain an understanding of themselves and others, but more importantly how to lead with impact, adding value and sharing their visions for the future." Not to forget that "the flexible calendar allows professionals to study wherever they are in the world, therefore allowing them to limit their carbon footprint by reducing travel".
Finally, another main strength of our London EMBA lies in its global networking opportunities. Université Paris Dauphine – PSL has always nurtured close ties to businesses and builds upon its multi-disciplinary ecosystem and high-level research. "The EMBA is delivered by leading faculty members and business practitioners, meaning, you will be immersed in an environment that is conducive to success", reminds Aletha, before adding "not only participants will have the chance to bond and network with high achievers from diverse backgrounds and various industry sectors, but they will also be entering PSL world's leading university hub, the Dauphine Alumni international network and the ADEMBA association (EMBA graduates)".
Our London EMBA is a terrific way to shape an executives' future... we look forward to you joining us. 
---